Philippine Air Lines (PAL) faces a $10-million class suit before a United States superior court for suddenly canceling a flight due to technical concerns last May 17.
Courthouse News Service earlier reported that Filipina Cherilyn Darilag filed the case against the Philippines' major airline after it mysteriously cancelled her flight to Manila from Vancouver, and never rebooked it.
Darilag stated in her complaint that she, together with 250 passengers, waited for three hours inside the plane before they were asked to leave the aircraft purportedly due to a mechanical problem.
They were also told that a hotel accommodation will be provided but no airline staff approached them to inform them where they will be checking in.
The complaint also stated that the passengers were promised an available flight the next morning, but Darilag claimed both morning and afternoon flights the following day were unavailable.
She also said PAL "issued transfer flights" to Manila via EVA Air and China Airlines but it was forfeited since the forms were said to lack validation stamps from PAL.
Darilag claims that to date, she has not received any follow up from the airline as to when she can fly out to Manila.
In a statement sent to the press last May 20, PAL representative Maria Cielo explained that the incident was due to "a maintenance check."
Cielo said, "We empathize with the passengers knowing fully well the inconvenience of the extended stay due to the grounding. But safety remains a priority."
Darilag's lawyer and PAL media officers have not been reached as of press time.
The airline was recently given permission to fly to New York last March after an 18-year halt because of economic and safety concerns.
According to the Courthouse News report, PAL has not met the minimum safety standards of the International Civil Aviation Organization from 2008-2014.
After 37 years in the cockpit, Air Canada's first female pilot is calling it a career.
Judy Cameron, an airline pilot with Air Canada, marked her final flight before retirement in Toronto on Sunday. Cameron was hired by the airline back in 1978, when she was 24 years old.
Cameron's breakthrough as Air Canada's first female pilot made headlines at the time.
On Sunday, Cameron touched down at Pearson Airport to a final salute, after a flight from Munich. Crews sprayed the Boeing 777 with a "water cannon salute" as the aircraft taxied to the gate.
"It's an emotional rollercoaster, I'm going to really miss my career," Cameron said after touching down in Toronto. "I enjoyed it immensely for 37 years. Today was overwhelming."
Old friends met Cameron at the airport to congratulate her on her remarkable career.
"Judy handled herself incredibly well over the years. She's got an awful lot to be proud of," said Capt. Al Mostowich, a longtime friend and fellow pilot.
Cameron says that she would like to see more female pilots in the coming years, as right now women only represent about 5 per cent of the industry.
"Just pursue your dream, don't let anybody laugh at you or dissuade you," Cameron says about females heading into the industry.
Getting passengers to where they're going on time is an airline's top priority. Refunding money to a passenger, well, that's not such a priority, at least for
American Airlines.
David Shaw of Whitehall Township just got the refund he says he was promised in September, and he got it only after the Watchdog repeatedly pestered the airline about it. That's so un-American.
Shaw and I had just about given up hope that he'd see the $150 American had said it would refund him after a booking glitch. Then the airline told me last week that Shaw's refund had been paid this month. The airline just never bothered to tell Shaw.
He didn't know about it until I relayed the good news. I guess customer communications and satisfaction aren't priorities for American either.
The last time Shaw heard from the airline was in mid-January, when it emailed him to say it was reviewing his request and any refund would be returned to his credit card within two billing cycles.
When that didn't happen, I jumped on board and contacted American Airlines on March 18. The airline left me in stand-by for three weeks, responding only after I called to follow up April 7. A spokeswoman told me then that the airline would check into it and get back to me.
cComments
Got something to say? Start the conversation and be the first to comment.
ADD A COMMENT
0
Another week passed with no word, so I contacted the airline again last week and was told the money had been paid, on April 7.
"We sincerely apologize for the delay in issuing his refund," an airline spokeswoman told me in an email.
She ignored my question about why it took so long, saying only that the refund "didn't meet our goals for timeliness."
I would hope not.
Shaw wasn't surprised about how he was treated. He's been bounced around by airlines before. Several years ago, he turned to the Watchdog for help when it appeared United Airlines and Chase bank were going to stiff him out of frequent flier miles. He told me he fears customers will endure more mistakes as airlines such as American and USAirways merge and grow larger.
This problem started in September when Shaw and his wife were preparing to return from an overseas trip. They went to the airport in Berlin to check in for their flight and were told that despite the confirmation paperwork they had, their reservation wasn't valid.
They had only an hour to straighten things out before takeoff. Shaw said he reached American Airlines and was told it never charged the credit card he used to book the trip. He gave the representative his card information again and they got their tickets, barely making it aboard.
But they weren't home free.
American Airlines had charged an extra $150 to his credit card. Shaw said he called to ask why and was informed there was a $75 fee for adjusting each itinerary by phone.
He wouldn't have had to call if the airline had processed his reservation correctly and charged the card he supplied. He pointed that out to the representative, noting he had received confirmation of his purchase and the airline hadn't contacted him to say it had a problem charging his card.
Shaw said the rep agreed to refund the fee. Three months later, at the end of December, the airline hadn't returned the money. He wrote a letter asking where it was and got an email Jan. 14 saying his request was under review.
It's a good thing airline regulators don't track American's on-time performance for paying refunds, because I suspect seven months wouldn't garner a top rating.
American Airlines is used to its rating slipping, though. Its performance dipped in a study released this month by researchers at Wichita State and Embry-Riddle Aeronautical universities, which combined the results for American and USAirways due to the merger.
The universities annually review federal data about airlines' on-time arrival rate, lost baggage rate, passenger bumpings and customer complaints, including those about refunds. The latest report found the airline industry as a whole performed worse last year than in 2013.
Shaw said if he and his wife had missed their flight, they would have been out at least 700 Euro (about $750) to get another flight. They also would have had to deal with the domino effect that would have had on their connecting flights home.
He said from now on, he won't trust a reservation confirmation from an airline.
"I learned a lesson from a hard way," he said. "We must double check our bookings before leaving home for a trip."
If you have a beef with an airline, you can seek help from the U.S. Department of Transportation at dot.gov/airconsumer or 202-366-2220.
The Watchdog is published Thursdays and Sundays. Contact me at watchdog@mcall.com, 610-841-2364 or The Morning Call, 101 N. Sixth St., Allentown, PA, 18101. I'm on Twitter @mcwatchdog and Facebook at Morning Call Watchdog.
Source
Apple Watch will make the flying experience more convenient for both casual and frequent flyers, with a number of airlines updating their apps for the Apple Watch in recent weeks, or announcing support coming soon, including American Airlines, Delta, United Airlines, JetBlue, British Airways, EasyJet, Ryanair, Qantas Airways, Air Canada, WestJet, Emirates and Japan Airlines.
Notable airlines that have not announced or planned Apple Watch support include Southwest Airlines and Virgin Airlines in the United States, and Cologne-based Lufthansa, the largest airline in Europe. As more airlines begin updating their apps for the Apple Watch, however, it is likely that others will follow in an effort to keep up with their competitors around the world.
The roundup below provides a closer look at Apple Watch apps for several airlines across the United States, Canada, United Kingdom, Australia, France, Ireland, United Arab Emirates and Japan. A handful of other general flight-related apps are also listed that provide general flight statuses, notifications, real-time departure and delay information and more for an easier traveling experience.
United States
American Airlines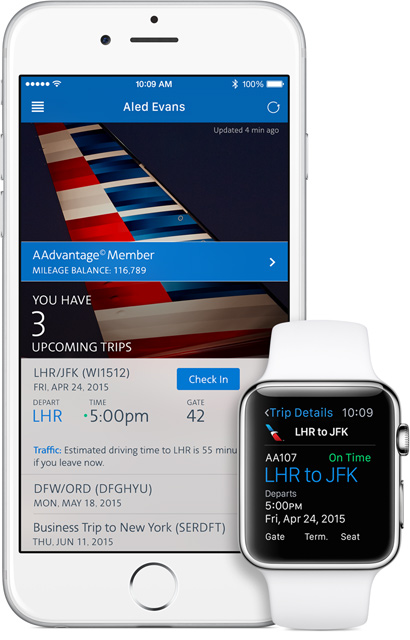 American Airlines for Apple Watch provides comprehensive flight information on your wrist, including gate change announcements, an in-flight map with estimated travel time remaining until arrival, and baggage claim and connection details. You can also receive a notification when it's time to leave for the airport and check in to your fight directly from your Apple Watch. American Airlines is
free on the App Store
.
Delta
Delta Air Lines will also be joining the mix of airline apps for Apple Watch in a future update to its current Fly Delta app for iPhone and iPad. Delta for Apple Watch will deliver notifications about flights to users ahead of their boarding times, and it will give them access to the boarding pass stored on their iPhones directly on the wrist.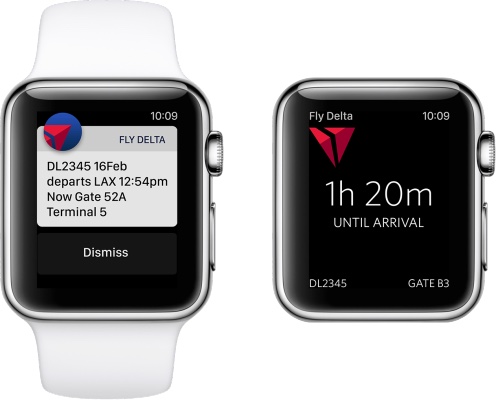 Delta for Apple Watch will offer flight numbers, gate numbers, flight times, and other info. If a flight gets changed, for example, users will get a notification on their Apple Watch. There will also be a notification when a flight is approaching a destination city, with information about luggage pickup. Fly Delta is
free on the App Store
.
United Airlines
United Airlines has not released screenshots or in-depth details about its Apple Watch plans, but it has confirmed that support for the wrist-worn device is in the works. United's app will offer at-a-glance information on upcoming flights, including gate numbers and status, and let users view their flight reservations. It will also pull a traveler's boarding pass from the Passbook app, and it's able to alert users if flight times or gate numbers change. United Airlines is
free on the App Store
.
JetBlue
JetBlue has updated its app with Apple Watch support, enabling users to purchase onboard premium offerings from their wrists. The new Apple Watch app provides flyers with a Glance flight status, travel countdown and smart mobile boarding pass from the Apple Watch. JetBlue is
free on the App Store
for iPhone, iPad and Apple Watch.
Canada
Air Canada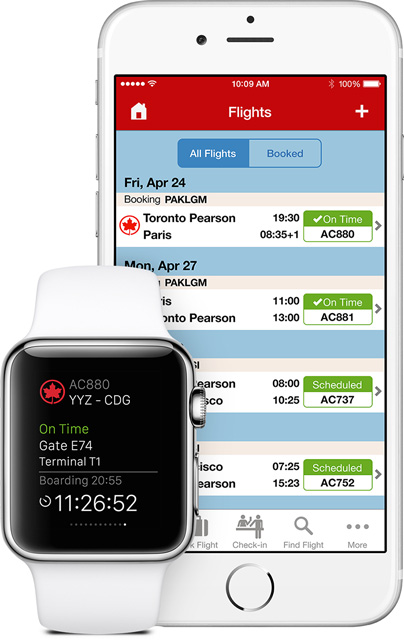 Air Canada, the largest airline in Canada, recently updated their app with Apple Watch support for viewing the status of your flights departing within 24 hours, seeing your countdown to boarding time from your Glances, getting notifications for checking in and boarding your flight, using Handoff from your Apple Watch to complete your check-in and viewing boarding passes from Passbook. Air Canada is
free on the App Store
.
WestJet
WestJet, the second-largest Canadian airline behind Air Canada, recently updated its app for the Apple Watch to allow users to keep track of saved flight statuses and details in Glances, or view a countdown of time remaining until your next WestJet flight. WestJet boarding passes saved to Passbook will also be available on Apple Watch. WestJet is
free on the App Store
.
United Kingdom
British Airways

Keep up to date with the latest flight information using British Airways for Apple Watch. At a glance, the app allows you to view the status of your next flight, access both scheduled and estimated departure times, and view the latest weather at your destination. The app also provides up-to-date information about the flight's gate status and provides notifications on your wrist when your gate status changes at Heathrow Terminals 3 and 5. British Airways is
free on the App Store
.
EasyJet

EasyJet, a low-cost airline in the United Kingdom, has also updated their app with Apple Watch support recently, providing personalized flight information and real-time views of travel information checked most frequently by passengers. Apple Watch users can also tweet and post to Facebook at various stages of their trip directly from the watch face. EasyJet is
free on the App Store
.
Australia
Qantas Airways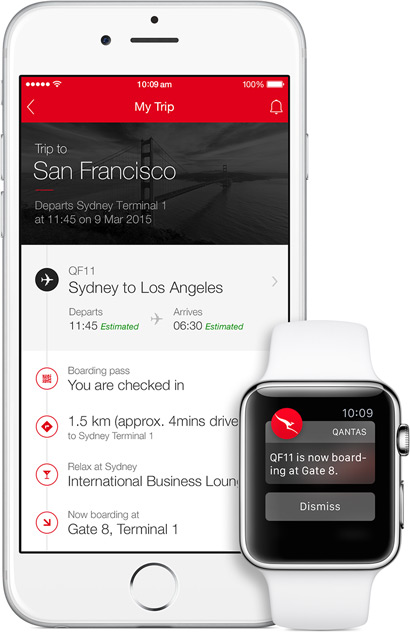 Qantas for Apple Watch is designed to eliminate the stress that can be associated with the flying experience. The app will provide a range of up-to-the-minute travel information and notifications on your Apple Watch including: departure time and gate information, in-air departure and arrival time-zone information, transit time information, lounge access eligibility, frequent Flyer login access, baggage carousel information (at selected destinations), boarding pass access (via Passbook) and delay or cancellation notifications. Qantas Airways is
free on the App Store
.
France
Air France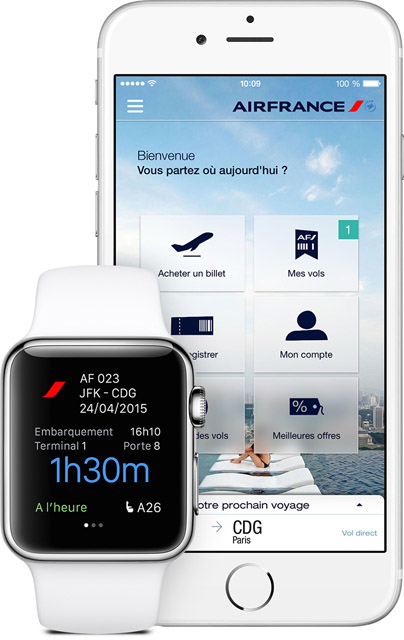 Air France for Apple Watch will deliver much of the same functionality as the airline's iPhone app, access upcoming reservations, including the ability to check if your flight is on time or confirm that you are checked in. You can also view all of your essential trip information via Glances, including your gate or departure terminal, your seat and the time remaining before boarding, and obtain your boarding pass through Passbook. Air France is
free on the App Store
.
Ireland
Ryanair
Ryanair has pledged support for the Apple Watch when the wrist-worn device becomes available in Ireland.
United Arab Emirates
Emirates

While the Apple Watch is not available in United Arab Emirates until later in 2015, the airline Emirates recently updated their app with Apple Watch support for a hands-free travel experience. Emirates will be the first airline in the Middle East and African region to offer an Apple Watch app, with similar functionality as others: review your list of upcoming trips, access real-time flight information, receive notifications and access your boarding pass through Passbook. Emirates is
free on the App Store
.
Japan
Japan Airlines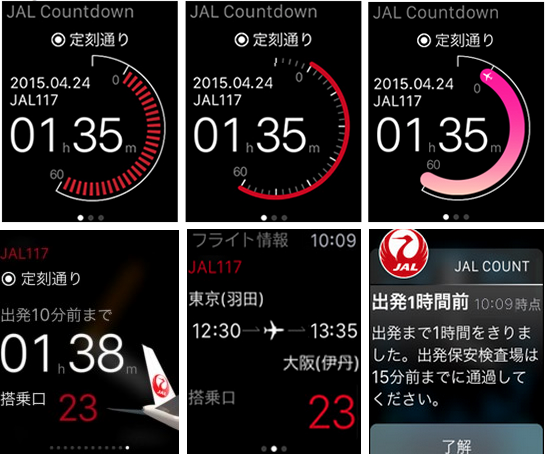 Japan Airlines has developed an Apple Watch app that it will be available when the device launches on April 24. The app will offer similar functionality as the other airlines listed above. JAL is
free on the App Store
.
Source
A Southwest Airlines flight attendant is suing her employer for the alleged wrongful-death of her husband, who suffered a fatal blood clot while flying on the airlines.
According to the lawsuit, financial analyst Richard Ilczyszyn suffered a pulmonary embolism during a flight in September 2014. Flight attendants allegedly heard the 46-year-old man groaning and crying in the aircraft's bathrooms.
"One flight attendant said she opened the door and she saw the top of my husband's head and his head was down and he was just whimpering, and [she] left him there," Ilczyszyn's widow Kelly Ilczyszyn claimed.
However, the airline disputes Ilczyszyn's claim and states that staff called the authorities before landing in Orange County, California.
"We offer our continued sympathy and condolences. It appears to have been an unfortunate medical event that we believe our flight attendants handled appropriately," a statement from Southwest Airlines read.
Southwest disputes the claim
Despite the airline's claim,
CBS News
reported that staff allegedly called the Orange County Sheriff's Department describing an unruly passenger, not someone in need of medical attention. "Apparently there's a passenger in... locked himself in the lav and is screaming and yelling," the staff member allegedly said in the recording.
According to CBS, Sheriff's deputies cleared the flight once it landed before checking up on the man. Ilczyszyn never regained consciousness and was pronounced dead at the hospital.
"The paramedics should have met the aircraft. Absolutely. Absolutely. And he would be here today," Kelly said. The widow's lawyer Andrew Speilberger added: "Our experts say these flight attendants and the crew, the captain, did not act reasonably based on the information that was before them".
Southwest told CBS that crew members were unable to open the bathroom door and could not fully assess his condition.
"Somebody that's head is down and there's no communication is somebody that's in distress, that needs help. That doesn't need a police officer," Kelly argued. "They need paramedics."