Chennai:
Two bombs planted on a train killed a 22-year-old woman and wounded nine others at the Chennai Central Railway Station on Thursday morning.
Sources say a man has been held and is being questioned. He was reportedly hiding inside the train an hour after the explosions.
The blasts took place at around 7:15 am on the Bangalore-Guwahati Express, which had just pulled into the platform 9 of the station for a 10-minute stop.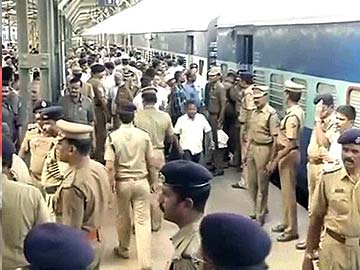 The nature of the blasts, which come in the middle of India's national election, is not known yet. A National Investigation Agency team is going to Chennai to join the investigations.
"There were two minor intensity blasts," RK Mishra, a senior railway officer, said at the station.
The blasts took place between the S4 and S5 coaches of the train.
A woman, Swati, was killed on the spot when one of the bombs exploded under her seat. Officials said she was traveling to Bangalore, from where she was heading to her home in Guntur, Andhra Pradesh. Her relatives have been called to Chennai.
Two people have been critically wounded, while seven have received minor injuries.
"We heard a very loud explosion. It was only after the chaos and the police came that we realised what had happened," said a passenger on the train.
The station has been cordoned off and is teeming with police personnel who are checking the rest of the coaches. Sniffer dogs have been scouring the platforms. The injured have been taken to a hospital near the station. (
see pix
)
Officials said they hoped to resume train operations within an hour.
After these blasts, surveillance has been increased on all trains and stations in Andhra Pradesh.
The state government has announced compensation of one lakh for the family of the woman who died,
R

s.
55,000 for those who are critical and
R

s.
5,000 for the others who were injured.
The Tamil Nadu government has announced a helpline number,
044 25357398
.