Varanasi:
Narendra Modi
is wearing pristine white, but there is no lack of colour as Varanasi turns out in a celebration extraordinaire to cheer the BJP's prime ministerial candidate. (
Track LIVE updates
)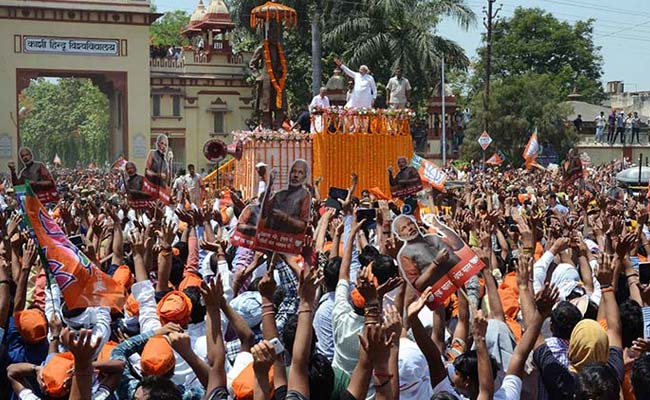 Thousands of BJP workers and supporters have washed the ancient city in saffron. But there is also the red of rose petals being showered from the terraces and windows of homes as Mr Modi's open truck crawls along the two-km route from Banaras Hindu University or BHU where he landed in a helicopter and the collectorate where he will file his nomination papers. (
In pictures: Modi's road show in Varanasi
)
His vehicle, draped in the BJP's colours, has covered about 500 metres in the last two hours, so thick is the crowd of cheering people on the roads.
There are people everywhere in a carnival-like atmosphere, on terraces, on trees; those who have come in from other states are in traditional attire, holding up hundreds of flags with the BJP's lotus symbol.
At BHU, Mr Modi garlanded the statue of the university's founder Madan Mohan Malaviya whose grandson, a retired judge is among those who will propose his name. In a programme designed for symbolism, a singer, a weaver and a boatman are the other proposers.
On the streets are priests and even people dressed as Gods. A 'Hanuman' is waving a wave. The sound of conch shells punctuates the sloganeering.
Across town, hundreds of prayer ceremonies are being held to bring luck to Mr Modi.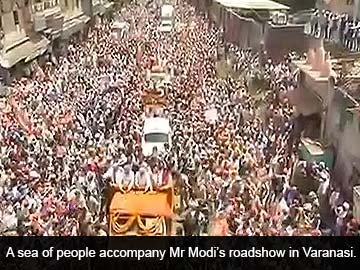 The BJP leader is garlanding other statues on his way - freedom fighter Sardar Vallabhbhai Patel and thinker Swami Vivekananda are leaders he avowedly follows and profusely quotes. Also a BR Ambedkar statue.
Mr Modi has cannily chosen a polling day to file his papers. His party is backing that with a grand show to ascertain top of the mind recall as votes are cast in 117 constituencies in 11 states.
His chief opponent in Varanasi is Aam Aadmi Party chief
Arvind Kejriwal
, who filed his nomination yesterday. (
I have

Rs.

500 in my pocket and an old jeep: Arvind Kejriwal in Varanasi
)
In a blog post, Mr Modi has sought the blessing and support of the city and has promised "a magnificent future for Varanasi" and an end to "a larger decay across UP."
Read More here -
http://www.ndtv.com/elections/article/election-2014/modi-in-varanasi-biggest-road-show-in-world-s-largest-election-513121